Information from: National Public Health Week/All of Us Research Program Outreach Toolkit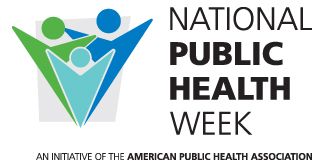 For 25 years, National Public Health Week has recognized the contributions of public health and highlighted issues that are important to improving our nation's health. During the first full week of April every year, APHA organizes a national campaign around NPHW to educate the public, policymakers and practitioners about issues related to each year's theme. This year is "NPHW@25: Looking Back, Moving Forward." We're highlighting the successes of public health, and thinking about how far we still have to go to make this the healthiest nation.
APHA members play a vital role in helping to call attention to important public health issues in their communities. During NPHW, APHA members host local events, speak at schools, conduct workshops with health practitioners, meet with legislators and much more. Creating and sharing communication materials can have a far-reaching impact in teaching people about the importance of public health. This communications toolkit will help you develop those materials.
During NPHW 2020, April 6–12, we will celebrate the power of prevention, advocate for healthy and fair policies, share strategies for successful partnerships and champion the role of a strong public health system. We're working upstream. We know health disparities still remain, so we're working with the All of Us Research Program to include everyone in medical research, to make medicine more inclusive and to serve everyone well. Your state health association has received support to help you share the message of public health — both working upstream and downstream to eliminate disparities and make this the healthiest nation.
During each day of NPHW, we focus on a particular public health topic. Then, we identify ways each of us can make a difference.
Updates: CAN'T GATHER?
If your NPHW event has been cancelled due to COVID-19, check out our tips on ways to celebrate while social distancing.
COVID-19 has thrown a curveball at National Public Health Week. Events have been postponed, canceled or modified. Yet everyone's mind is on public health, and there are still lots of ways to celebrate NPHW while maintaining social distance and keeping our communities healthier.
Get more social. Post our social media shareables, or make your own with our templates, to get your message out to as many people as possible.
Don't forget to RSVP for the April 8 Twitter Chat!
Focus on health at home. Share reputable resources about protecting yourself from COVID-19 with your neighbors. Post Get Ready fact sheets in your apartment building or share our videos on your community listserv.
For more information, see NPHW website.
Follow NPHW on Twitter
Get more info on All of Us research program. 
Like and Share the Arkansas Public Health Association's Facebook posts for each day.