Andi Ridgway, MS, RD, LD, CDE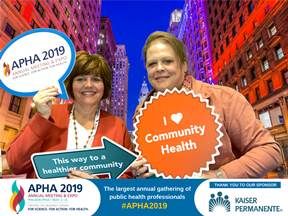 President's Perspective
Philadelphia, the city of brotherly love and the birthplace of our nation did not disappoint for the 2019 meeting of the American Public Health Association. From scientific sessions to exhibits and posters, plenary sessions with some of the nation's leaders in public health and networking socials and section meetings, there was something for everyone.  The days were packed starting at 7 am and going until you either give up or give out!

As Arkansas's current affiliate president I attended several sessions sponsored by the American Public Health Association to provide assistance and sharing best practices for state affiliates. Saturday is an entire day devoted to affiliates. We heard an update from APHA's Affiliate Affairs team as well as affiliate best practices shared in a round robin format.  On Monday, the Council on Affiliates sponsored a poster session for affiliates to display some of their work from the past year.  I presented a poster session entitled "Arkansas: The Land of Opportunity" that discussed our affiliate work over the past couple of years to redesign and refocus with our communications and organizational infrastructure. Other affiliates presenting posters included Maryland, Ohio, Mississippi, Vermont, Minnesota, Iowa and Kansas.

I also observed three sessions of APHA's Governing Council, which is the representative legislative body of the Association. It consists of voting and nonvoting members who represent different constituencies within APHA. Section and Affiliate representatives to the Governing Council are elected by their own Section or Affiliate. Officers are also elected by the Governing Council during its Annual Meeting. The Council establishes policies for the Association and for the guidance of the Executive Board and the officers. The Governing Council also has authority over the Sections of the Association.  Libby Seftar is a voting member as Arkansas's Affiliate Representative to the Governing Council or (ARGC). Arkansas has previously referred to this position as APHA Rep.

One really cool thing that the Council on Affiliates sponsors is the Candidates Forum.  The candidates for Executive Board and President-Elect give an opening statement, then break out to tables where each candidate gets to chat and answer questions from the Affiliates and Sections attendees. Each candidate is rotated through all the tables. After the rotation, the candidates give some closing remarks.  Following the adjournment of this session, the Council on Affiliates (CoA) does a debrief to discuss the candidates.  Each ARGC may vote independently or they may decide to vote as a block for one candidate.  This session offers a great opportunity to talk with the candidates in a small group setting.

I had some "take aways" from the plenary sessions:
*Dr. Redfield said that science and data must be the basis for policy. Don't create policy devoid of both.
*Dr. Redfield also said that addiction is a chronic relapsing medical condition, not a moral failing. Stigma is the enemy of public health.
*Dr. Benjamin encouraged everyone to treat each other with respect. Show kindness and respect. Use good manners.
*Dr. Gail Christopher said that there is no hierarchy of human value. This fundamental belief must be replaced with a belief in the sacred interconnectedness of all humans.  Decisions should honor humanity.

We have come a long way since this country was founded in Philadelphia some 240 years ago.  Reflecting on what I learned at APHA, we still have a long way to go to achieve the "All men are created equal" goal.  Structural racism, human trafficking, social determinants of health and overall health inequities remain an ingrained part of our society and continue to hold us back from accomplishing our potential as a society. 
Andi Ridgway
---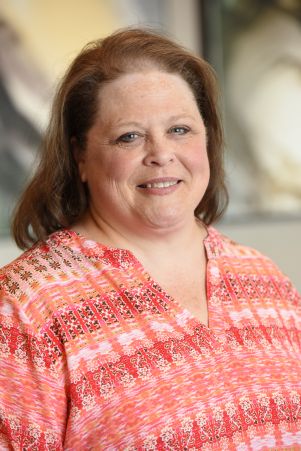 Get to know your Association President:
Name:  Andi Ridgway
Where you work:  Arkansas Department of Health
Title/Position: Hometown Health Improvement Branch Chief
More about my Job: I work with ADH colleagues and state partners to improve the health of Arkansas' communities through Hometown Health Improvement.  I am responsible for developing and maintaining state-level partnerships, coordinating staff training and program development at the state level, managing fiscal appropriations, and producing state and federal reports.
APHA Involvement: Served as Second Vice-President from 2015-2018
Other Organizational Involvement:  Past Chair for the Arkansas Coalition for Obesity Prevention, Past Chair for the Arkansas Chronic Disease Coordinating Council
Birthday: October 1
Hometown: Benton, AR
Current City of Residence: Benton, AR
Married/Family: Ken Ridgway, Videoconference Coordinator for ADH; 2 children, Andrew, 27, Shelby 24
Hobbies: sewing, horseback riding/showing, playing piano and singing in church
People Oriented or Task Oriented? Task
Favorite Food/s:  chocolate, ice cream
Favorite Healthy Food/s: broccoli, garden-fresh tomatoes
Favorite Sports Team/s: Boston Red Sox
Favorite TV Show: Pretty much any medical or crime drama
Favorite cartoon character: Eeyore
Favorite Thing to do on a Sunday afternoon: Nap
Favorite Quote: Leadership fails most often when leaders lose sight of the mission and become obsessed instead with issues related to the organization as an entity separate from its purpose.
My dream vacation is: Alaskan cruise
Something others might be surprised to know about me: I am truly an introvert. On the Myers-Briggs survey, I am an ISTJ. 
The best thing about my job is: getting to see communities change for the better